Cactus Communications was recognized as one of Asia's 100 Most Admired Brands 2020 and its co-founder and CEO Abhishek Goel as one of the 100 Inspirational Leaders of Asia 2020. These awards were handed out by White Page International, a global consulting firm with a diverse portfolio that includes brand consulting, print advertising, AV production, creative advertorial promotions, PR and research.
CACTUS has been present in Asia for over 18 years and is one of the largest providers of scholarly communication and technology services to academia and the life sciences, the publishing industry, and other stakeholders. CACTUS aims to amplify the voice of science and connect the scientific community to a global audience from every corner of the globe through technological innovation.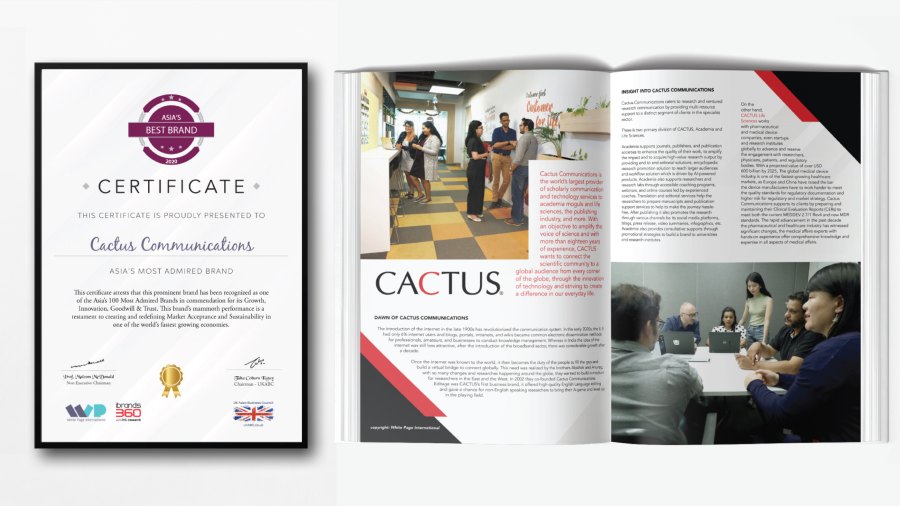 Abhishek Goel co-founded CACTUS to bridge the science communication gap between the East and the West. He established Editage, CACTUS's flagship brand, to help researchers overcome the barriers of language and reach, and get published. After establishing CACTUS's first international office in Japan, he spearheaded the organization's growth in Asia, North America, and Europe. Abhishek believes that the natural conclusion of research is making the world a better place. He has led several initiatives to democratize science and make knowledge accessible to all who seek it. He has conceptualized and oversaw the development of R (researcher.life), an ecosystem that simplifies the life of researchers through an array of solutions. In 2020, he supervised the design of a comprehensive AI-powered platform to help researchers across disciplines in their fight against COVID-19. Abhishek is a strong advocate of improving customer experience, and this is reflected in CACTUS's work culture and customer-friendly policies.