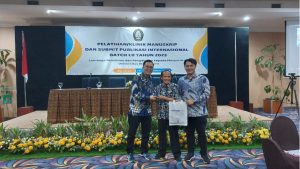 Editage, the flagship brand of Cactus Communications (CACTUS) — a science communication and technology company — has announced a partnership today with the Research & Community Development Institution of Universitas Diponegoro, one of the top ten most prestigious universities in Indonesia. With this partnership, Editage aims to assist Universitas Diponegoro's researchers with publication needs such as editing and translation.
Commenting on the partnership, Abhishek Goel, CEO and Co-Founder, CACTUS, said, "We are excited to partner with Universitas Diponegoro to ensure a smooth research and publication process for its researchers. According to QS World University Rankings, Universitas Diponegoro is one of the top ten most esteemed universities in Indonesia and we are truly honored that they have chosen our flagship brand Editage to support their research needs. This partnership solidifies the trust that Editage has built as the preferred publication support provider in Indonesia. By providing access to Editage's expert tools and services, we want to cater to the diverse needs of Universitas Diponegoro's researchers in the future and help them maximize research impact."
Dr.Eng. Adi Wibowo, S.Si., M.Kom., Head of Internal Quality Assurance of LPPM Universitas Diponegoro, said, "We are enthusiastic about our partnership with Editage, as it aligns with Universitas Diponegoro's commitment to achieving global standards in research and publication. By availing Editage's services, our researchers can produce work of international quality, fostering publications and intellectual properties that effectively leverage cultural and local resources. This partnership contributes significantly to our vision of becoming a superior research university."
Starting with language support services, Editage has now evolved and expanded to publication support, pre-submission checks, research impact creation, and many other unique solutions for authors and publishers globally.